Under the Add Resource box, select Type "Aircraft" in the drop down box and then press the "Add Aircraft" button below.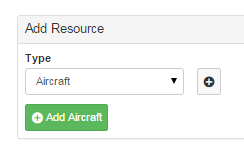 A new dialog box will then appear, as follows: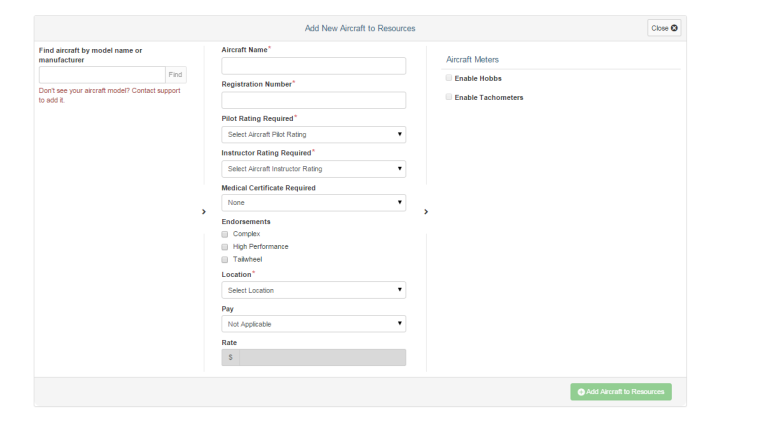 First, you may search the aircraft by model name or manufacturer in the first box, and then click "Find." For example, search for "Warrior" or "172S." Then, press "Select" for the appropriate Make and Model of your Aircraft.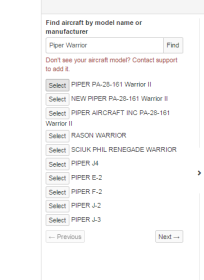 The information associated with the aircraft will populate the fields, including performance info. You may Edit this info as appropriate.
Once selected, note that the Aircraft Name will populate based on the Manufacturer and Model. NOTE: This is how the aircraft will appear on your schedule. You may modify this entry to what you prefer to be displayed on the Schedule.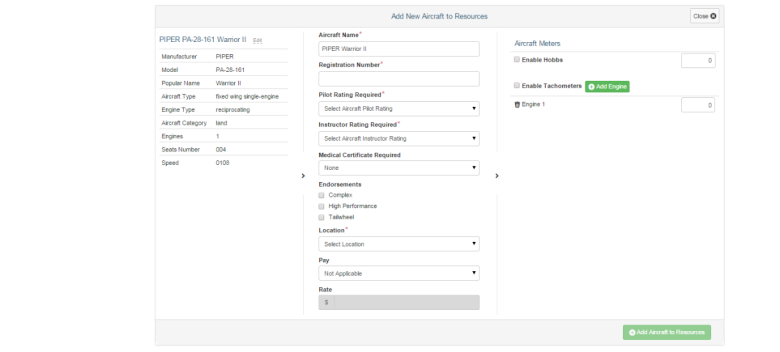 Then, proceed to fill out the Aircraft info as follows:
Under Registration Number, please enter the N-Number of the Aircraft.
Select the Pilot Rating Required under the drop down box. (Ex. Select "Aircraft Single Engine Land" for a Cessna 172).
Select the Instructor Rating Required for the Aircraft. Select the Medical Certificate Required. This may vary if the aircraft is considered an LSA (Driver's License minimum), Standard Category aircraft (Third), or Aircraft which require a type rating (Second or higher medical certificate).
If the Aircraft requires certain endorsements, please select those as applicable.
Select the Location to which you wish to assign the Aircraft. Note: you may change the location in the future.
Then, indicate whether the aircraft is pay by hour (typical) or by use (gliders?). Once selected, you may enter the Standard Rate of the Aircraft.
Finally, you may enable the Aircraft Meters which will track Hobbs and Tachometers. Please select the appropriate checkbox. If the Aircraft has multiple engines, you may click "+ Add Engine" to add as many as there are (we doubt there will be more than two!).
Finally, click "Add Aircraft to Resources" once all fields are completely filled.
Please repeat the process to capture all aircraft within your Organization.
Managing Inspections.
Once the aircraft is added, you can define the inspections you want to track. See Section 8.1 below for further detail.