To create an event here:
1.Select Month view from the Calendars drop down menu.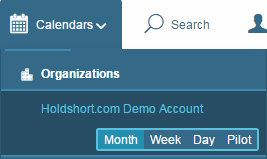 Alternatively, go to My Dashboard, hover the cursor over Organization Calendar in the Schedule Module list, and choose Month View from the expanded list.

2.Click on the green Create Event button in the top part of the screen or choose a suitable box in the calendar.

3.Follow instructions in the section Creating Event.